May 18, 2019
Busti, NY


Max Blair continued to show his mastery of the Super Late Model division by scoring his 300th win in spectacular fashion, coming from sixteenth on the grid to the lead on lap eighteen in a caution-free race.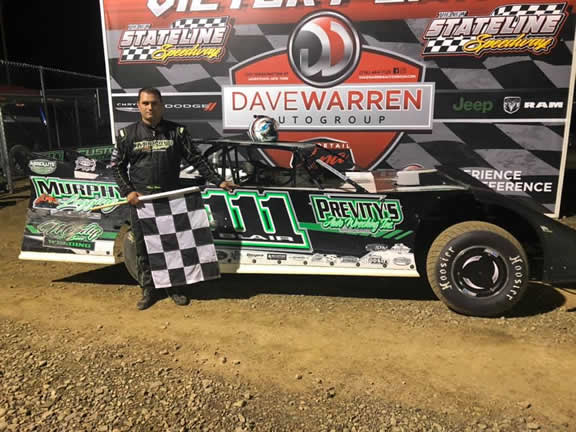 The 24-car field on Dave Warren Auto Group Super Late Models were brought to green by Jake Finnerty and Dutch Davies with Darrell Bossard and Bump Hedman in row two. Finnerty led lap one but Wyatt Scott spun in turn four, negating the start.
Davies led by half a length at one lap this time and opened it up to a full length at the end of two laps. Davies, a former champion continued to lead with Finnerty, Bump Hedman, Darrell Bossard, and Max Blair filling out the top five at ten laps. Blair was fifth at eleven complete, then third at twelve laps.
With ten to go the leaders caught the rear of the field and Finnerty took advantage and again at seventeen laps Finnerty was leading but Blair went to the outside and drove by both Davies and Finnerty in traffic. On the final lap Ryan Montgomery got by Hedman for fifth.
At the checkers it was Blair, Bossard, Finnerty, Davies, and Montgomery.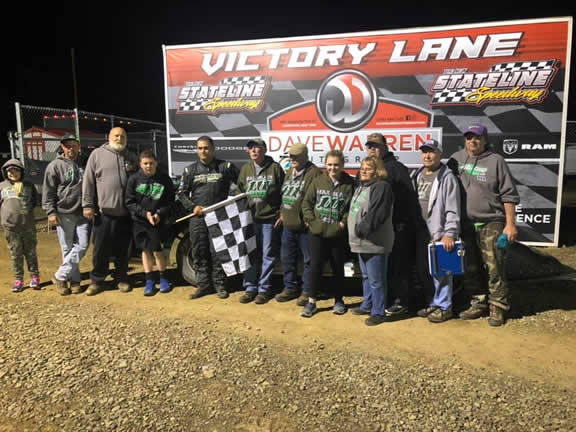 Dave Warren Auto Group Super Late Models:
Heat 1: Bump Hedman, Wyatt Scott, Ryan Montgomery, Chris Hackett, Nate Hill, Brandon Groters, David Scott
Heat 2: Darrell Bossard, Ryan Scott, John Lobb, Joel Watson, Greg Oakes, Kyle Bedell, Cody Egner
Heat 3: Michael Wonderling, Andy Boozel, Dutch Davies, Colton Flinner, Rick Tripodi, Rich Gardner, Easton Hedman
Heat 4: Jake Finnerty, Steve Kania, Matt Urban, Max Blair, Jason Dobson, Doug Eck

B-Main: Doug Eck, David Scott, Rich Gardner, Brandon Groters, Cody Egner, Easton Hedman, Kyle Bedell (DNS)

Feature: Max Blair, Darrell Bossard, Jake Finnerty, Dutch Davies, Ryan Montgomery, Bump Hedman, David Scott, Michael Wonderling, Ryan Scott, Matt Urban, Greg Oakes, Steve Kania, Wyatt Scott, Joel Watson, Colton Flinner, Nate Hill, Andy Boozel, Chris Hackett, Doug Eck, Rich Gardner, Rick Tripodi, Brandon Groters, John Lobb, Jason Dobson
Close Racing Supply RUSH Late Models: 
Heat 1: Scott Gurdak, Jason Genco, Braeden Dillinger, Kyle Zimmerman, Scott Dellahoy Jr, Josh Beckstrom, Paul Norman, Michael Duritsky (DQ)
Heat 2: Max Blair, Ryan Frazee, Ward Schell, Chad Schauers, Sam Pennacchio, T J Downes, David Parker, Jacob Peterson
Heat 3: Jeremy Wonderling, Darrell Bossard, Brian Knowles, Khole Wanzer, Logan Zarin, Andy Michael, Bill Kessler, Dale McDonald
Heat 4: Kyle Lukon, Damian Bidwell, Bruce Hordusky, Kyle Murray, Jared Kane, Gary Troyer, Chad Clement, Brian Larson

B-Main 1: T J Downes, Michael Duritsky, Paul Norman, David Parker, Josh Beckstrom, Jacob Peterson, Matthew Sipes (DNS)
B-Main 2: Andy Michael. Gary Troyer, Bill Kessler, Chad Clement, Brian Larson, Dale McDonald

Dash: Jeremy Wonderling, Ryan Frazee, Scott Gurdak, Jason Genco, Kyle Lukon, Max Blair, Damian Bidwell. Darrell Bossard

Non Qualifiers Race: Paul Norman, Chad Clement, Brian Larson, Jacob Peterson, Josh Beckstrom, Dale McDonald Jr

Feature: Jeremy Wonderling, Max Blair, Jason Genco, Darrell Bossard, Scott Gurdak, Damian Bidwell, Kyle Lukon, Ryan Frazee, Braeden Dillinger, Bruce Hordusky, Brian Knowles, Ward Schell, Khole Wanzer, Sam Pennacchio, Chad Schauers, Michael Duritsky, Logan Zarin, Gary Troyer, Scott Dellahoy Jr, Kyle Murray, Jared Kane, Kyle Zimmerman, T J Downes, Andy Michael, Bill Kessler