May 17, 2018              
East Smethport, Pa
Hammett, PA
A double header weekend was on tap for the ULMS Racing Series as Saturday night saw the Zimmer Service Center ULMS Late Model Series and the Plyler Entry Systems UEMS Emod Series under the same program at McKean County Family Raceway and Sunday ULMS was at Eriez Speedway for the Dick Litz Memorial.
Max Blair swept both features for the ULMS Late Model Series at MCFR and Eriez. The two wins would give Blair four wins on the 2018 tour and also moved him back into the point lead and it was also his fourth series win out of the past five events.
The evening kicked off with Mike Maresca setting the Integra Shocks Overall Fast time at MCFR and winning his qualifying heat over Blair and Bob Dorman. Mike Pegher Jr. of Cranberry picked up the win in heat number 2 over fellow Pittsburgh region driver, Jake Gunn and Wyatt Scott. The top three finishers redrawing for the top six spots which put Pegher and Scott on the front row for the main event..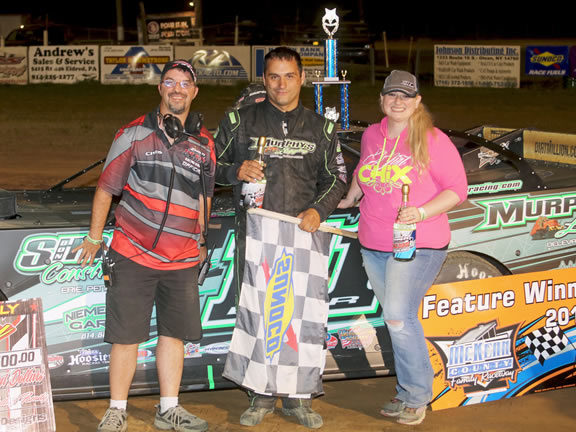 The 30 laps Krystin Birthday Bash for the Zimmer Service Center ULMS Late Models saw Pegher rocket into the lead over Scott, Jake Gunn, Blair and Dorman as lap one was completed. Zack Carley would bring the yellow out as lap two was completed with a turn three spin. Pegher again jumped into the lead over Scott and Blair made his move into third out of turn two putting Gunn back to the fourth position as lap three clicked off the board. Blair would swoop under Scott in turn 2 and take over second from Scott on lap seven and set his sites on his brother in law, Pegher in the famous Lynn Geisler owned Cochran Pontiac #1c machine.
Bob Dorman would bring out the yellow on lap 12 while running fourth just as Blair was starting apply heavy pressure on Pegher. The running order was Pegher, Blair, Scott, Maresca and Greg Oakes. On the restart Maresca got the best start as he got around Scott for third and chased after Pegher and Blair. Oakes would take fourth over from Scott on lap 14. Pegher pulled away from the field as Maresca challenged Blair for second as the top two point cars raced door to door. Lap 15 would see Oakes go up in smoke eliminating him from fourth position.
Blair started to reel in Pegher as the duo started to reach the rear of the field. Pegher would slide high in turn three and four allowing Max to get under him and using the lap car to make the pass for the lead. Blair would pull away to grab his third win of the year on the Zimmer Service Center ULMS tour. Pegher would come home second with Maresca finishing third and maintaining his point lead over Blair despite his third win of the year. Wyatt Scott was fourth with sixteenth starting Doug Eck finishing fifth. John Lobb came home sixth from starting seventeenth followed by Nathan Hill, Jake Gunn, Michael Wonderling and Al Brewer.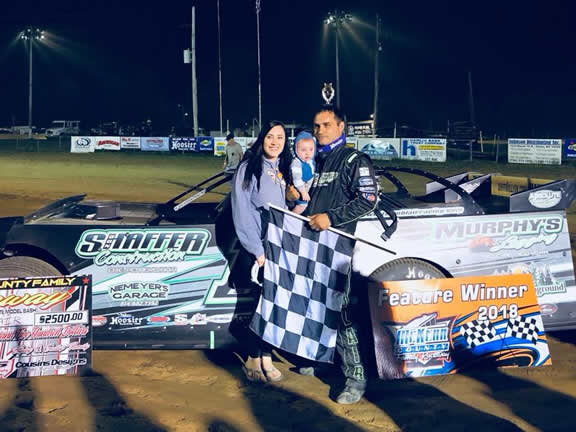 On Sunday at Eriez Speedway, the annual Dick Litz Memorial for the Zimmer Service Center United Late Model Series paying $2900 to win the 29-lap feature for the Plyler Entry Systems Super Late Models was run in honor of one of the all-time fan favorites who sadly passed from life in 2009. For most of his career Litz used the number "29" on his late models. At the end of the night it was Max Blair in the Plyler Entry Systems Victory Lane for the second time in 2018 at Eriez and It was Blair's fourth Zimmer Service Center/ULMS win of the 2018 season.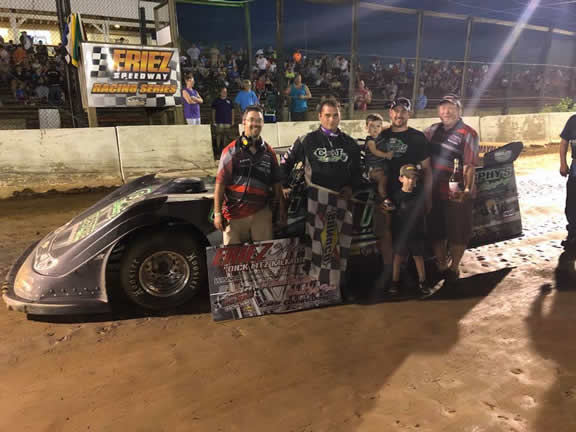 Doug Eck drew the pole position for the 29-lap Dick Litz Memorial for the Zimmer Service Center United Late Model Series with Chad Wright starting outside front row. Max Blair and Mike Maresca, the current ULMS points leader, made up the second row. Eck pulled to the immediate lead with Blair following him to second and then the lead by the end of lap two. In turn two Brandon Groters spun into the outside wall but was able to continue despite heavy sheet metal damage to the right rear quarter panel. At the same time Wyatt Scott spun in turn three but was not charged with the caution since it was already out for Groters.
Blair pulled out to the lead with Chad Wright coming to second over Eck. Mike Maresca was third at the end of four laps with Dave Hess fourth and fast qualifier Chub Frank fifth. Hess got by Maresca then spun in turn one with eight complete. Before lap nine was complete Steve Kania, Mike Smith, Kyle Knapp, Chris Hackett, Jason Dobson, and Brandon Groters all piled up in turn three. Blair, Wright, Eck, Maresca, and Frank, were the top five for the green with Blair again pulling out to the lead over Eck and Wright. Mike Wonderling Jr and Jake Finnerty got together and spun in turn one after one more lap was complete. Blair again led after green with Eck and Wright side by side through lap thirteen when Wright pulled ahead. Frank continued in fourth with Maresca fifth.
At ten laps to go Blair enjoyed a full straight lead over Wright with Eck another two lengths back in third. Eck then came back to challenge Wright at twenty four laps and running second at twenty five. Maresca got next to Wright on the front straight at twenty six laps then spun heading into turn one with Andy Boozel, having no place to go, sliding into him. For the three laps remaining it was Blair, Eck, Wright, Frank, and Mike Pegher bring the field to green. Wright was second at two to go with Wyatt Scott up to fifth. At the checkers it was Blair by half a straight over Wright, Eck, Frank, and Scott.
ULMS is proudly supported by Zimmer's Service Center, Plyler's Entry System, Close Racing Supply, Insinger Performance, Sunoco Race Fuels, Precise Racing, Hoosier Tire Mid Atlantic, Lias Tire, American Racer Tire, Genesis Shocks, Integra Shocks, Keizer Wheels, Jay's Automotive of Portville NY, Mary Norgrove Notary Public and Advocare by Advozuvy.com. Don't forget to get all your information from the series website at www.ulmsracing.com and follow us on Facebook and Twitter.
Zimmer Service Center United Late Model Series:
Time Trials: Chub Frank 15.074, Mike Marecsa 15.209, Dave Hess 15.212, Chad Wright 15.434,Mike Pegher 15.475, Max Blair 15.546, Doug Eck 15.589, Jake Finnerty 15.629, Bump Hedman 15.671, Matt Urban 15.702, Wyatt Scott 15.707, Kyle Knapp 15.730, Mike Wonderling 15.807, Mike Knight 15.805, Brandon Groters 15.964, Chris Hackett 16.002, Ryan Scott 16.064, Andy Boozel 16.096, Darrell Bossard 16.161, Steve Kania 16.331, Jason Dobson 16.715, Breyton Santee 16.816, Mike Smith NT
Heat 1: Chub Frank, Mike Maresca, Jake Finnerty, Matt Urban, Michael Wonderling Jr, Darrell Bossard, Brandon Groters, Jason Dobson
Heat 2: Dave Hess Jr, Max Blair, Doug Eck, Andy Boozel, Kyle Knapp, Mike Knight, Ryan Scott, Chris Hackett (DNS)
Heat 3: Mike Pegher Jr, Chad Wright, Wyatt Scott, Bump Hedman, Steve Kania, Breyton Santee, Mike Smith

Feature: Max Blair, Chad Wright, Doug Eck, Chub Frank, Wyatt Scott, Mike Knight, Mike Pegher, Breyton Santee, Matt Urban, Darrell Bossard, Mike Wonderling Jr, Bump Hedman, Steve Kania, Mike Smith, Mike Maresca, Andy Boozel, Jason Dobson, Ryan Scott, Chris Hackett, Jake Finnerty, Dave Hess Jr, Kyle Knapp, Brandon Groters
MCFR ULMS FEATURE FINISH:
MAX BLAIR, Mike Pegher, Mike Maresca, Wyatt Scott, Doug Eck, John Lobb, Nathan Hill, Jake Gunn, Mike Wonderling Jr., Al Brewer, Garrett Mott, Jason Dobson, Chris Hackett, Zack Carley, Greg Oakes, Bob Dorman and Wendell Pinckney