The Zimmer Service Center United Late Model Series held its third event of the 2021 #milliondollartour Friday night at the legendary Williams Grove Speedway in Mechanicsburg, PA. Twenty two cars signed in on the very windy night that saw Bryan Bernheisel capture the Integra Shocks fast time of the evening for the ULMS South Region event,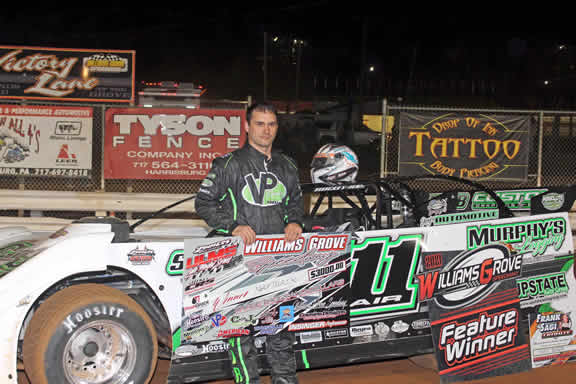 The 30 lap, $3000 to win main event saw three time defending series champion, Max Blair on the pole due to his Jay's Auto Wrecking Scramble win that was worth $100 over Andy Haus, Coleby Frye, Mike Lupfer, Dylan Yoder and Kyle Lee.
Blair took the initial lead over Haus as Lupfer jumped the cushion in turn 1 and slide to seventh on the opening lap. Lap 1 saw Blair over Haus, Frye, Lee, Yoder and Jason Covert up from ninth. As the first five laps clicked off the top five stayed the same with Blair pulling away from the field and Drake Troutman taking sixth from Covert.
Blair would enter lap traffic by lap nine. Troutman and Yoder were side by side for fifth with Covert a few car lengths behind. Blair lead of half a straightaway by lap 12 over Haus and Frye battling for the runner up spot. The yellow lights came out on lap 14 for ULMS Chew on This Jerky Rookie of Year contender Deshawn Gingerich who spun in turn two.
The restart saw Blair rocket down the front stretch as Frye dropped under Haus for second and they were side by side on lap 15 for the runner up spot. Covert went to fifth as Yoder slipped to seventh behind Troutman. Haus and Frye would continue their battle for second and the trio of Yoder, Covert and Troutman were battling hard as Troutman jumped the cushion and spun in turn four to bring the yellow ending that torrid three car battle for fifth and his night ending being pushed into the pit area.
The restart saw Covert go to fourth as Lee slipped to sixth behind Yoder. With ten to go the running order was Blair, Haus, Frye, Covert, Yoder, Lee, Gene Knaub, Ryan Scott, Justin Weaver, Shaun Jones and Austin Berry rounding out the top ten. Frye and Haus picked up their battle for the runner up spot again on lap 22. With five to go, Blair was checking out on the field again and the Frye, Haus battle was still going on. With two to go, Frye made the move on Haus for second and Jason Covert had joined the party and was side by side with Haus. As Blair was taking the checkers over Frye, Covert would make a last lap pass over Haus to claim third. Yoder came home fifth followed by Lee, Jones, Knaub, Weaver and Ryan Scott.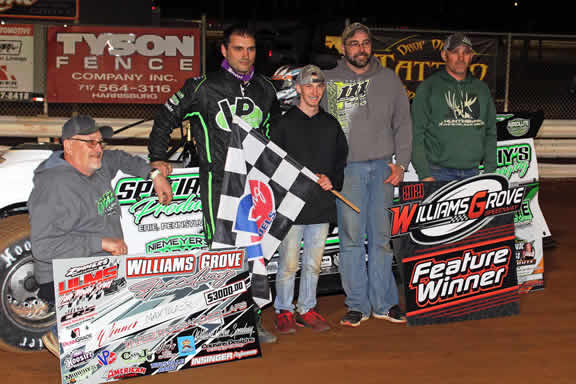 The three heat winners were Lupfer, Blair and Yoder. In the first heat, pole sitter Bryan Bernheisel was involved in a series of violent flips in turn one that saw his #119 Lazer Chassis leave the race track over the turn one wall landing on all four wheels. Bernheisel would be taken to a local hospital where he was later diagnosed with fractures in his neck and upper back.
Max Blair picked up his 30th career ULMS win and his first ever at Williams Grove Speedway adding his name to the list of winners at the legendary central PA oval. The win was also a qualifier for the Frank Sagi Tribute to be held on Sunday May 16 at Hagerstown Speedway.
The Zimmer Service Center ULMS Late Model Series next event is April 9 at the very same Williams Grove Speedway followed by the first of two ULMS events of the year at Selinsgrove Speedway. Both events are South Region events and pay $3000 to win.
ULMS RACING SERIES is proudly supported by Zimmer's Service Center, TheCushion, Close Racing Supply, Precise Racing, Hoosier Tire Mid Atlantic, Lias Tire, American Racer Tire, Murphy's Logging, Chew on this Jerky, C&J Dairy, Titusville Dairy, Viper Motorsports, Insinger Performance, VP Race Fuels, MACH Auto Detailing, WEHRS Machine & Racing Products, DirtDefender, Jay's Auto Wrecking, Genesis Shocks, Keyser Manufacturing, Integra Shocks, Keizer Wheels, Cousins Designs, Dynamic Drivelines, Beyea Headers, Mary Norgrove Notary Public, Jays Automotive, Phantom Signs & Graphics, Vahlco Wheels, Accelo Race Wear, Bernheisel Race Components and PennGrade 1® High Performance Oil
Frank Sagi Tribute Qualifier (30 Laps)
MAX BLAIR, Coleby Frye, Jason Covert, Andy Haus, Dylan Yoder, Kyle Lee, Shaun Jones, Gene Knaub, Justin Weaver, Ryan Scott, Austin Berry, Deshawn Gingerich, Larry Neiderer, Dave Stamm, Drake Troutman, Mike Lupfer, Gary Stuhler, Billy Wampler Dirk Ramrott, Dan Stone, Rick Eckert, Bryan Bernheisel (DNS)
Zimmer's Service Center Heat #1
Lupfer, Frye, Troutman, Jones, Berry, Wampler, Stamm, Bernheisel
Hoosier Tire Heat #2
Blair, Haus, Knaub, Scott, Neiderer, Gingerich, Eckert
PennGrade High Performance Oil Heat #3
Yoder, Lee, Norris, Stuhler, Ramrott, Weaver, Stone