Polesitter Max Blair of Centerville, Pa., swept Saturday's action at the Greater Cumberland Raceway. Blair lead the event from flag to flag and eared his second victory of the season on Zimmer's United Late Model Series Southern Tour. Blair earned $3,000 for the victory.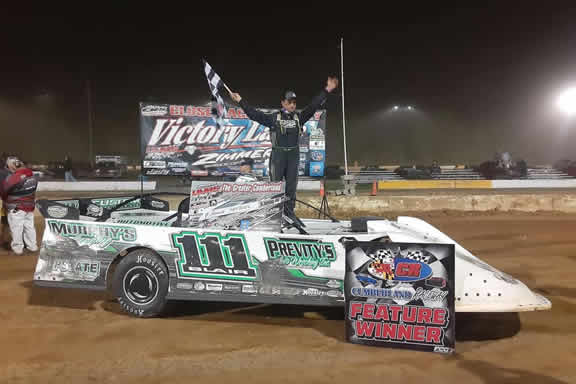 "I got a little impatient with a couple of lapped carsand almost screwed up pretty bad," Blair said. "Once I cleared them guysI just kinda calmed myself back down."
With the victory Saturday night, Blair now has 31 career ULMS victories.
ULMS RACING SERIES is proudly supported by Zimmer's Service Center, TheCushion, Close Racing Supply, Precise Racing, Hoosier Tire Mid Atlantic, Lias Tire, American Racer Tire, Murphy's Logging, Chew on this Jerky, C&J Dairy, Titusville Dairy, Viper Motorsports, Insinger Performance, VP Race Fuels, MACH Auto Detailing, WEHRS Machine & Racing Products, DirtDefender, Jay's Auto Wrecking, Genesis Shocks, Keyser Manufacturing, Integra Shocks, Keizer Wheels, Cousins Designs, Dynamic Drivelines, Beyea Headers, Mary Norgrove Notary Public, Jays Automotive, Phantom Signs & Graphics, Vahlco Wheels, Accelo Race Wear, Bernheisel Race Components and PennGrade 1® High Performance Oil
Car Count: 17
Fast Qualifier: Max Blair
Polesitter: Max Blair
Dash Winner: Max Blair
Heat Race Winners: Max Blair, Gregg Satterlee
Frank Sagi Tribute Qualifier (30 Laps)
MAX BLAIR, Gregg Satterlee, Jared Miley, Chuck Clise, Matt Cosner, Kenny Moreland, Tyler Hershey, Shaun Jones, Ryan Scott, Alex Ferree, Danny Snyder, Deshawn Gingerich, Dave Stamm, Dylan Lewis, Ethan Ours, Matt Sponaugle, James Loar
Zimmer's Service Center Heat #1
Blair, Miley, Cosner, Moreland, Jones, Stamm, Ours, Ferree, Lewis
Hoosier Tire Heat #2
Satterlee, Clise, Hershey, Snyder, Scott, Gingerich, Sponaugle, Loar