​For the first time, the Zimmer;s Service Center United Late Model Series (ULMS) pulled into Wayne County Speedway and when the racing was finished it was all Max Blair's night. The Centerville Pa. driver started the evening off by just missing the track record held by Chris Madden of 16.580 seconds set back on May 27, 2017. Blair stopped the clock with a time of 16.598 seconds in the Integra Shocks qualifying.
Driving the Murphy's Logging, Viper Risk Management Group and Privity's Auto Wrecking #111, Blair would win his heat, be the best in the Scramble to start on the pole of the 30 lap feature.
At the drop of the green flag, Mitch Caskey would follow Blair closely for the opening five circuits, but the WCS points leader tried to get by Blair coming out of turn four on lap five and would spin bringing out the caution. Jared Miley, the other heat winner, would take over second with Doug Drown in third and those two would go back and forth for second until lap 14 when Drown belted the guardrail in turn one and that would end his night. This would move Chub Frank into third with Corey Conley and Ryan Missler battling him for third.
Miley was trying every part of the 3/8 mile oval to overtake Blair but never could during the middle part of the feature, A lap 22 caution for a slowed Jerry Aber would bunch the field back together and when the green flew again, Blair was able to pull away from Miley as Missler worked on Frank for third until Conley edged past Missler with five to go. Caskey had worked his way back and caught Missler with three to go for fifth.
As the checkered flag waved, Blair was followed by Miley, and Frank making it an all Pennsylvania podium, Conley was fourth followed by Caskey.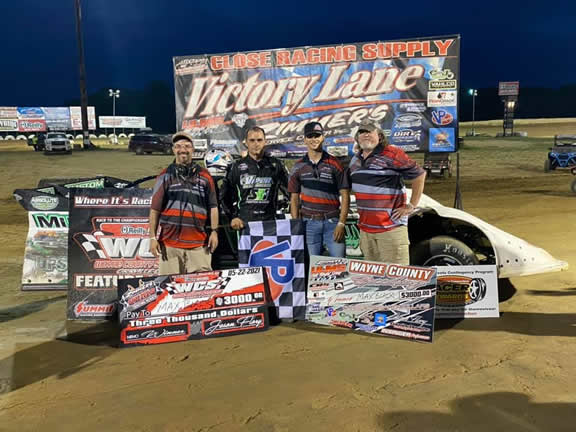 WAYNE COUNTY SPEEDWAY RESULTS
ULMS LATE MODELS Fast Qualifier: Max Blair 16.597 seconds
Heat 1: Max Blair, Doug Drown, J R Gentry, Chub Frank, Ryan Scott, Deshaun Gingerich, Corey Conley, Dustin Smith dns
Heat 2: Jared Miley, Mitch Caskey, Ryan Missler, Ryan Markham, Tyler Carpenter, Jerry Aber, David Airgood, Larry Bellman
Feature: Max Blair, Jared Miley, Chub Frank, Corey Conley, Mitch Caskey, Ryan Missler, Ryan Scott, Ryan Markham, Larry Bellman, David Airgood, Jerry Aber, J R Gentry, Deshaun Gingerich, Doug Drown, Tyler Carpenter, Dustin Smith dns