Bloomsburg Fair Raceway reopened for the first time since 1985 and the Zimmer's Service Center ULMS Late Model Series was part of the historical reopener at Pennsylvania's newest track. New track or not, Max Blair did what Max Blair does, he won the tracks reopener and etched his names with the likes of Mario Andretti.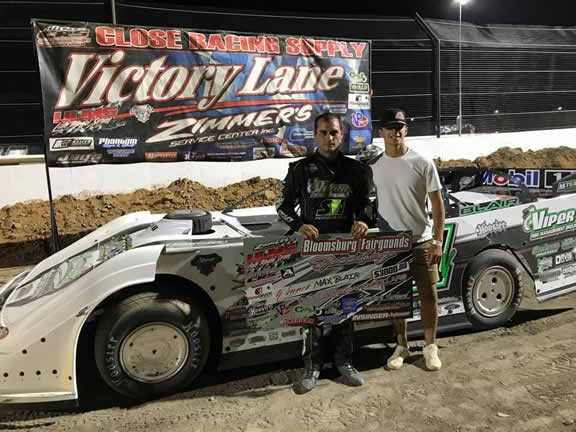 With weather roaring into the Bloomsburg area and lightning off in the distance, Blair and Jeff Rine paced the field to the green flag only to see the yellow lights flash as fourth place starting Jim Bernheisel got high into turn one and slid hard into the turn one wall. The race restarted with Blair immediately getting to the front as the field reentered turn one. Lap 1 completed saw Blair over Rine followed by Shaun Jones, Dylan Yoder and Andrew Yoder.
As the laps clicked off in the early stages, a three car battle for sixth was heating up between Chew on This Jerky Rookie of Year drivers Deshawn Gingerich, Ryan Scott and regional star, Dan Stone. Lap five would see Blair by a half straightaway over Rine as Dylan Yoder was pressuring Jones for third. Dylan Yoder would get around Jones for third and Gingerich was all over Andrew Yoder for fifth.
Blair was setting a wicked pace in the Shawn and Lisa Martin owned Viper Risk Management #111v and was into heavy lap traffic as Andrew Yoder and Gingerich was now pressuring Jones for fourth. As Blair was in the heavy lap traffic, Rine and Dylan Yoder started to creep in on the Blair machine for a possible late race challenge. With two laps remaining, Blair made a race winning move to get around two lap machines to give him enough distance over Rine and Yoder who were battling for second.
At the checkers it was Blair picking up his 33 career ULMS win and his fifth 2021 ULMS win overall. Following Blair was Dylan Yoder, Rine who was the Integra Shocks fast qualifier for the night with rookie of year contender, Deshawn Gingerich taking his first top five of the year followed by local driver Shaun Lawton who came home fifth. The remaining top ten were Jones, Andrew Yoder, Jim Yoder, Ryan Scott and Dan Stone.
The Zimmer's Service Center ULMS Late Model Series will return to Bloomsburg on Sunday July 25. The next event on the ULMS schedule is a four day holiday weekend starting Thursday July 1 at McKean County Raceway, Friday July 2 at Freedom Motorsports Park, Saturday, July 3 at Stateline Speedway and Sunday July 4th at Eriez Speedway.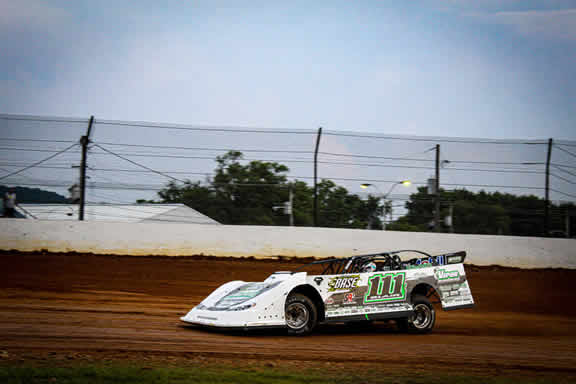 ULMS RACING SERIES is proudly supported by Zimmer's Service Center, TheCushion, Close Racing Supply, Precise Racing, Hoosier Tire Mid Atlantic, Lias Tire, American Racer Tire, Murphy's Logging, Chew on this Jerky, C&J Dairy, Titusville Dairy, Viper Motorsports, Insinger Performance, VP Race Fuels, MACH Auto Detailing, WEHRS Machine & Racing Products, DirtDefender, Jay's Auto Wrecking, Genesis Shocks, Keyser Manufacturing, Integra Shocks, Keizer Wheels, Cousins Designs, Dynamic Drivelines, Beyea Headers, Mary Norgrove Notary Public, Jays Automotive, Phantom Signs & Graphics, Vahlco Wheels, Accelo Race Wear, Bernheisel Race Components and PennGrade 1® High Performance Oil.
FEATURE:
MAX BLAIR, Dylan Yoder, Jeff Rine, Deshawn Gingerich, Shaun Layton, Shaun Jones, Andrew Yoder, Jim Yoder, Ryan Scott, Dan Stone, Nathan Long, Jason Harmon, Dave Stamm, Luke Hoffner, Brett Schadel, Jim Bernheisel
Heat #1 Jeff Rine, Stone, D Yoder, Gingerich, Scott, Hoffner, Stamm, Lawton
Heat #2 Max Blair, Bernheisel Jones, A Yoder, Schadel, Long, Harmon, J Yoder