July 10, 2021
East Smethport, PA

McKean County Raceway got its second race of the season completed July 10th, the "Summer Sizzler" for the ULMS Super Late Models. Max Blair set the fast time of 14.525 seconds over Wyatt Scott at 14.814, Michael Wonderling at 15.025 and Eric Wilson at 15.038.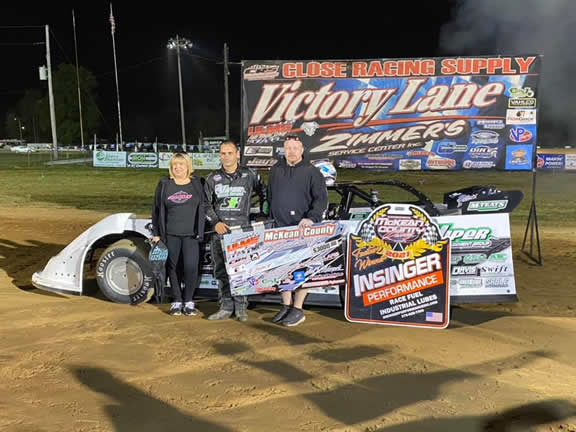 The feature event of the night was for the Zimmer's Service Center ULMS Late Models with the front of the field set via the ULMS "Scramble." Max Blair and Eric Wilson brought the field to green with Blair leading Bryce Davis, Wilson, Wyatt Scott, and Deshawn Gingerich through lap one. As the laps were completed Ryan Scott and Bob Dorman got together on the front stretch, spinning into the infield. When lap two was complete it was Blair leading a side by side race for the runner-up spot between Wyatt Scott and Davis with them just ahead of a side by side battle between Wilson and Gingerich.
At five laps Blair was solidly in front with Wyatt Scott second over Davis, Wilson, and Gingerich. The order remained static until a caution at lap twenty when Dorman rolled to a halt in turns three and four. Under the yellow, Wyatt Scott suffered a flat left rear and headed pit side with the top five now Blair, Davis, Wilson, Gingerich and Greg Oakes. Scott, a winner here earlier this season, was able to rejoin the race without losing a lap and began charging back through the field but spinning in turn two and again heading pit side.
At twenty three laps Wilson had problems and drove to the infield. The final yellow came at lap twenty-four when Jason Dobson spun in turns three and four. With twenty four laps of the thirty scheduled in the books Oakes took over second but Blair was cruising to another win. Oakes wound up second over Davis, Wyatt Scott (after redoing the field a second time), and Gingerich.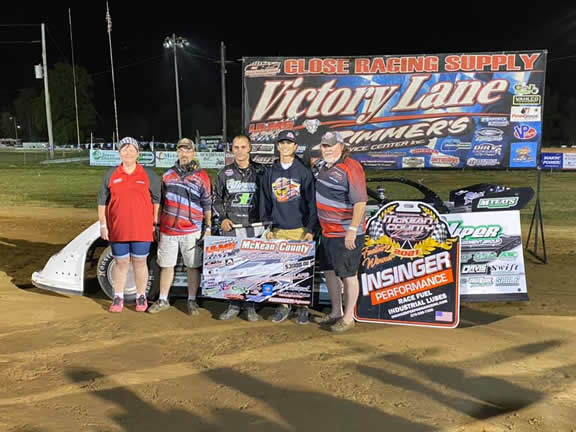 Zimmer's Service Center ULMS Super Late Models
Heat 1: Max Blair, Eric Wilson, Deshawn Gingerich, Bob Dorman, Michael Wonderling, Mike Smith
Heat 2: Wyatt Scott, Bryce Davis, Ryan Scott, Greg Oakes, Jason Dobson, Clayton Tarabori
Jay's Auto Wrecking Scramble: Max Blair, Eric Wilson, Bryce Davis, Wyatt Scott
Feature: Max Blair, Greg Oakes, Bryce Davis, Wyatt Scott, Deshawn Gingerich, Mike Wonderling, Mike Smith, Jason Dobson, Bob Dorman, Eric Wilson, Clayton Tarabori, Ryan Scott