Max Blair topped the $2500 to win MCS Super Late feature event that was delayed for over 2 and ½ hours for rain.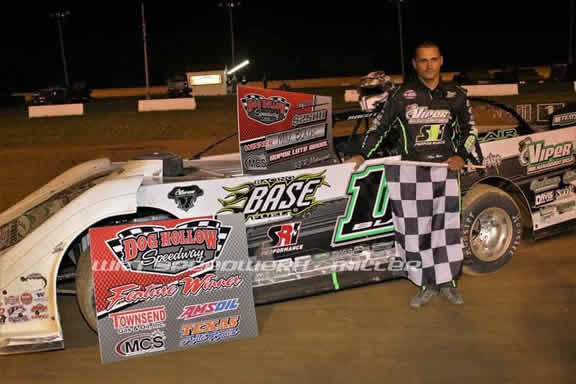 The MCS Super Late Models hit the track first for their 30-lap event. The drop of the green saw Max Blair leading the way. Blair had Jon Lee breathing down his bumper at first. Blair looked like he was going to pull away from the pack, but seventh starting Alex Ferree had other plans as he moved in to second on lap 13. He chased Blair down and when Blair went to the low side, Ferree blew past on the outside coming out of turn four to take the lead on lap 18. Ferree led five laps before Blair wrestled the lead back on lap 23. Blair was able to lead the final eight laps to take the $2500 victory.
Ferree was second followed by Jon Lee, John Wayne Weaver and Drake Troutman. Sixth through tenth was Michael Lake, Chub Frank, Mike Wonderling, Deshawn Gingerich and Dave Blazavich.
Heat winners were Blair, Lee and Blazavich. Blair set fast time and received $100 from Bobby Lake Motorsports. Also receiving $100 for the Hard Charger Award from Bobby Lake Motorsports was John Wayne Weaver, who advanced eight spots.
MCS Super Late Models (22) – Max Blair, Alex Ferree, Jon Lee, John Wayne Weaver, Drake Troutman, Michael Lake, Chub Frank, Mike Wonderling, Deshawn Gingerich, Dave Blazavich, Bryan Benton, Kyle Knapp, Dan Angelicchio, Dan Stone, Jarid Ivory, Del Rougeux, Mike Laughard, Ryan Christoff, Paul Ivory, Billy Eash, Clinton Hersh (DQ), DNS – Joe Petyak