July 31, 2021
Busti, NY

Twenty-two Super Late Models were signed in the pits for the 65th Anniversary Special. Panama, NY's Jake Finnerty would set fast time, tripping the clock at 16.036.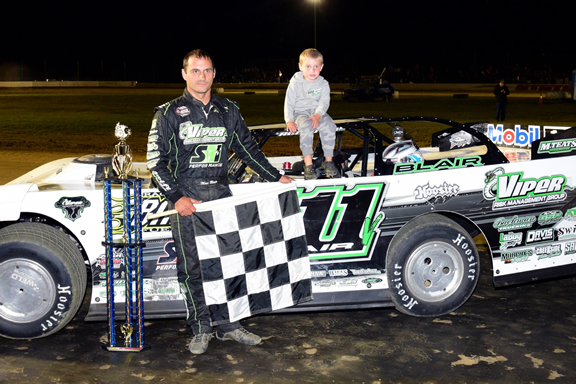 Veteran racer, Greg Oakes and Ryan Scott would bring the field to green. Greg Oakes would jump out to comfortable lead for the first six laps with Dutch Davies and Max Blair in tow. Blair would get around Davies on lap six then set his sights on the leader, Oakes. Jared Miley would finally move around Davies on lap nine, as he started shortening the distance on second place runner, Blair.
Ninth place starter, Dave Hess Jr. would crack the top five on lap fourteen using the outside cushion. Hess would grab the fourth spot on lap sixteen, which would result in a side-by-side duel with Miley for the next five laps. Hess would go upstairs once again to take third from Miley on lap twenty-one. Lap twenty-seven would see leaders, Oakes and Blair hit heavy lapped traffic. On lap twenty-eight, tenth place starter Darrell Bossard would join the mix in the top five, before a caution would fly one lap later.
On the restart, Hess would once again move to the outside and pick off Blair for second on lap thirty. On lap thirty-four, Hess would do a slider on Oakes going into turn one, but Oakes would regain the point exiting turn two. For the next four laps the top three would put on a classic duel for the top spot. Hess would finally gain his outside momentum and grab the lead from race long leader, Oakes, on lap thirty-nine. Oakes would still remain within striking distance of Hess and would actually pull alongside Hess numerous times over the course of the next fifteen laps.
With Hess starting to look like he was going to bring home his eighth win of the season, he would slow coming out of turn four and finally come to a stop on the front stretch on lap fifty-five, with a broken driveshaft yoke. As the race would resume, Oakes and Blair would engage in their battle for the lead. Blair would finally make his winning move on lap sixty then cruise the remaining distance to bring home his first Stateline Super Late Victory of 2021, cashing in on a nice $6,500 payday for his efforts. This would be Blair's twenty-sixth career feature win at the Busti, NY oval. Blair was followed by, Oakes, Bossard, Miley, and Steve Kania.
Super Late Models (65th Anniversary Special)
Heat 1: 1. Jared Miley 2. Jacob Finnerty 3. Greg Oakes 4. Darrell Bossard 5. Jason Genco 6. Logan Zarin 7. Michael Smith 8. Anthony Marotto

Heat 2: 1. Dave Hess Jr. 2. Wyatt Scott 3. Dutch Davies 4. David Scott 5. Andy Boozel 6. Kyle Bedell 7. Bump Hedman

Heat 3: 1. Max Blair 2. Ryan Scott 3. Steve Kania 4. Damian Bidwell 5. Bob Dorman 6. Khole Wanzer 7. Clayton Tarabori

Feature: 1. Max Blair 2. Greg Oakes 3. Darrell Bossard 4. Jared Miley 5. Steve Kania 6. Jason Genco 7. Ryan Scott 8. David Scott 9. Dutch Davies 10. Andy Boozel 11. Wyatt Scott 12. Damian Bidwell 13. Jacob Finnerty 14. Logan Zarin 15. Bump Hedman 16. Michael Smith 17. Khole Wanzer 18. Anthony Marotto 19. Dave Hess Jr. 20. Kyle Bedell 21. Bob Dorman 22. Clayton Tarabori
Thank you to all of our supporters who make our racing season possible:
Base Racing Fuels, Chiarelli Paving, ATC Site Construction, Viper Risk Management Group, GSP Garrett Smith Performance, XS Fabrication, David Diesel Service, Bachman Trucking, Creekside Auto Sales, Murphy's Logging, C&J Dairy, Previty's Auto Wrecking, Specialty Products, Integra Racing Shocks, XR1 by Pancho's Racing Products, M Teats Transport, Mobile 1, CSR Close Racing Supply, SRI Performance, Strange Axles, XS Power, Jones Pulley's, Brown & Miller Oil Lines, Dynamic Drivelines, Clements Automotive, Roy's Body Shop, Brinn Transmission, FK Rod Ends, Sweet Manufacturing, Wilwood Brake Systems, MWB Graphics, F&W Grafix, DMI / Bulldog Rearends, Rocket Chassis, Beyea Headers, Midwest Sheet Metal, Allstar Performance, Winning Edge Carburetors, Swift Springs, Accur-Force, Barnes Oil Pumps, Hoosier Tire