July 4, 2021
Hammett, PA

Eriez Speedway celebrated the 245th birthday of the United States of America with a 41-lap feature for the Mill Run Collision / Zimmer Service Center ULMS Super Late Models presented by Hess Garage and Salvage in memory of one of the most influential men in Eriez history, Mike Farr. Mike started his involvement with racing in the 1960s with the old Sportsmen Coupe cars and later developed the Genesis Shock. Although Mike, an Erie native, left the area for the metro Atlanta area, he maintained close ties to this community, often visiting the area and supporting several race teams here, including the winner of tonight's memorial, Max Blair.
Blair would set fast time over the 22 car field, wound up finishing second in his heat, and won the "Scramble" to start on the pole for the feature. He would go on to lead every lap to score the win over Dave Hess, Greg Oakes, Darrell Bossard, and Wyatt Scott.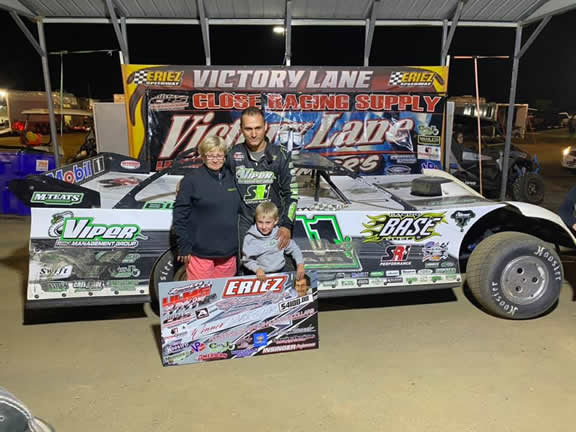 The night's featured event was the Mike Farr Memorial for the Mill Run Collision / Zimmer Service Center ULMS Super Late Models presented by Hess Garage and Salvage. Max Blair and Dave Hess Jr, both past division champions, sat on row one, bringing the field to green. Blair immediately grabbed the lead over Hess, then Darrell Bossard and Coleton Flinner in a side by side battle for third, with Coleby Frye fifth.
By lap five Flinner was solidly third. Blair began lapping the back markers at lap eleven. By fifteen laps into the race Flinner and Bossard were side by side for third again with Greg Oakes coming into fifth. The halfway point had Blair leading Hess, Flinner, Bossard, and Oakes, who got fourth at lap twenty-three.
Yellow was shown as Frye spun at lap twenty-five in turn two. Another yellow was out at lap twenty-eight when Ryan Scott slowed in traffic on the back straight. When green reappeared it was Blair, Hess, Flinner, Oakes, and Mike Knight with Knight taking over fourth at lap twenty-nine but Oakes once again holding it at thirty, then in third at thirty-one.
Flinner fought back and the pair were side by side at lap thirty-two but Oakes returned to the spot at thirty-three. At thirty-five laps Bossard was fourth when Scott again slowed dramatically, this time in turn four. With four laps left Oakes charged into second.
The racing was extremely close behind the leader as Blair charged to the win, with Hess narrowly taking second over Oakes and Bossard narrowly getting fourth over Wyatt Scott. With the win, his third of the season, Blair will increase his ULMS points lead over Wyatt Scott.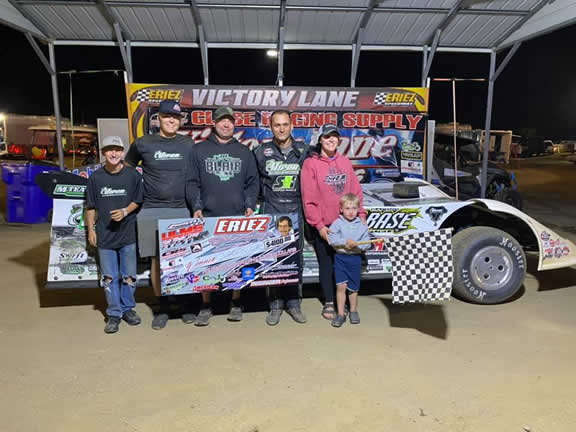 Mill Run Collision / Zimmer Service Center ULMS Super Late Models sponsored by Hess Garage - 22 entries
Time Trials: Max Blair fast time
Heat 1: Dave Hess Jr, Max Blair, Coleby Frye, Dutch Davies, Andy Boozel, Ryan Scott, Jason Genco
Heat 2: Colton Flinner, Boom Briggs, Greg Oakes, Steve Kania, Wyatt Scott, Mike Smith, Tyler Thompson
Heat 3: Chad Wright, Darrell Bossard, Mike Knight, Alex Ferree, Khole Wanzer, Deshaun Gingrich
Scramble: Max Blair, Dave Hess Jr, Chad Wright, Colton Flinner, Darrell Bossard, Boom Briggs
Feature: Max Blair, Dave Hess Jr, Greg Oakes, Darrell Bossard, Wyatt Scott, Colten Flinner, Dutch Davies, Mike Knight, Chad Wright, Steve Kania, Andy Boozel, Jason Genco, Mike Wonderling, Deshaun Gingerich, Ryan Scott, Tyler Thompson, Coleby Frye, Boom Briggs, Alex Ferree, Michael Smith, Khole Wanzer, Jason Harmon (DNS)