July 4, 2021
Hammett, PA

The Nic Dit Trucking / Empire RUSH Late Models feature was brought to green by Matthew Sipes and Gary Troyer with Sipes leading Troyer, fifth-starting Breyton Santee, third-starting Bruce Hordusky Jr, and sixth-starting Jeremy Wonderling.
Wonderling was fourth at two laps and third at six laps when Robert Klein spun in turn two. At seven laps Wonderling led Sipes, then Santee and Hordusky were side by side for third and Bobby Rohrer fifth. Santee and Hordusky were still side by side at nine laps with Santee holdig onto third at the halfway point.
At twelve laps Wonderling enjoyed a half-straight lead over Sipes. Yellow was needed at lap twelve when Jacob Peterson, Chuck Lafleur, and D J Krug spun. After green it was still Wonderling over Sipes, then a three-wide tussle for third with Santee, Hordusky, and Max Blair vying for the spot then Rohrer spun in turn two.
At fourteen laps Blair was fourth and Jason Genco came to fifth at with five to go. With four to go Blair was challenging Santee for third, gaining it at seventeen laps. Yellow again at seventeen laps when Ashton Briggs spun in the main straight.
At the green Wonderling still led Sipes, Blair, Santee, and Genco. Blair chased Wonderling as the white flag was shown. Blair would charge the high side going into turn 3, and would take the lead coming out of turn four, leading Wonderling to the checkers. The final finish was Blair, Wonderling, Sipes, Genco, and Santee.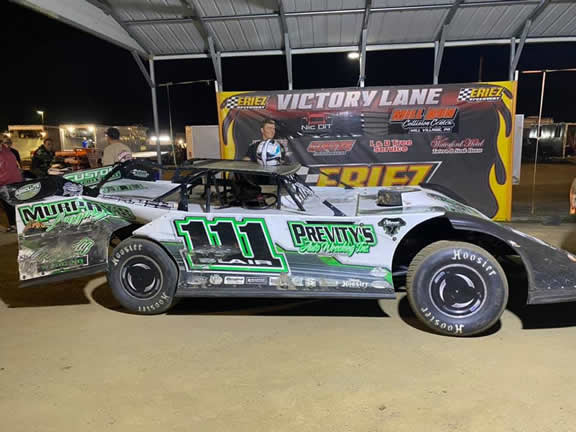 Nic Dit Trucking / Empire RUSH Late Models - 19 entries
Heat 1: Max Blair, Scott Gurdak, Bruce Hordusky, Jason Genco, David Parker, Jacob Peterson, Paul Norman
Heat 2: Matt Sipes, Chuck LaFluer, Gary Troyer, D J Krug, Gary Houngs, Robert Klein
Heat 3: Jeremy Wonderling, Breyton Santee, Bobby Rohrer, Khole Wanzer, Billy Henry, Ashton Briggs
Feature: Max Blair, Jeremy Wonderling, Matt Sipes, Jason Genco, Breyton Santee, David Parker, Khole Wanzer, Bruce Hordusky Jr, Billy Henry, Scott Gurdak, Gary Troyer, Bobby Rohrer, Gary Youngs, Chuck Lefleur, Jacob Peterson, D J Krug, Paul Norman, Ashton Briggs, Robert Klein