July 9, 2021
Brookville, PA

After over a month of Mother Nature putting a damper on Friday night racing in Knox Dale, Friday night action returned at Thunder Mountain Speedway with a Semi and Super Late Model special. Max Blair had another impressive nite at the Thunder Mountain Speedway, setting fast time, picking up the heat win, and leading all 25 laps of the $2,500 super late model special feature event.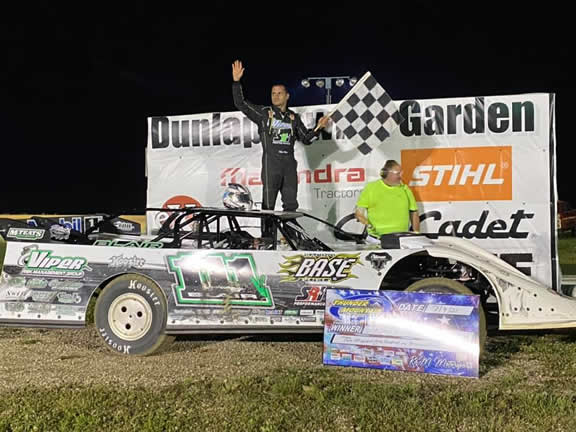 In the Triple Nickel Distillery Super Late Models feature event, the 111s made up the front row with Matt Lux and Max Blair bringing the field to the green. Blair would jump out to the lead as Jared Miley moved into second over Lux. Miley would get high in turn four causing him to hit the turn four wall to bring out the yellow. On the restart, Chris Hackett moved into second over Lux as Mike Wonderling, Bob Dorman, and Miley battled for fourth. Doug Eck put his shoe in the battle for fourth and moved into third over Hackett.
As Blair continued to lead the field, Lux would move back into second ahead of Eck and Hackett. Blair would go on to collect the $2,500 payday. Blair was followed by Matt Lux, Doug Eck, Chris Hackett and Bob Dorman at the checkers.
Fast Time: Max Blair
Heat Winners: Max Blair, Jared Miley
Feature: Max Blair, Matt Lux, Doug Eck, Chris Hackett, Bob Dorman, Jon Lee, Jared Miley, DeShawn Gingerich, Gale Huey, Mike Wonderling, Dylan Fenton, Denny Fenton, Tyler Thompson