Max Blair Wins 3rd "Mike Farr Memorial" at Eriez Speedway
July 5, 2022
Hammett, PA
By: ULMS Series Officials

Sunday Night saw the Zimmer's Service Center ULMS Late Model Series make its only visit to Eriez Speedway for the 6th annual Mike Farr Memorial. A familiar face was in victory lane as defending four time series champion and current World of Outlaw Rookie of Year driver Max Blair picked up his third Mike Farr Memorial an taking home over $6500 in purse and lap money.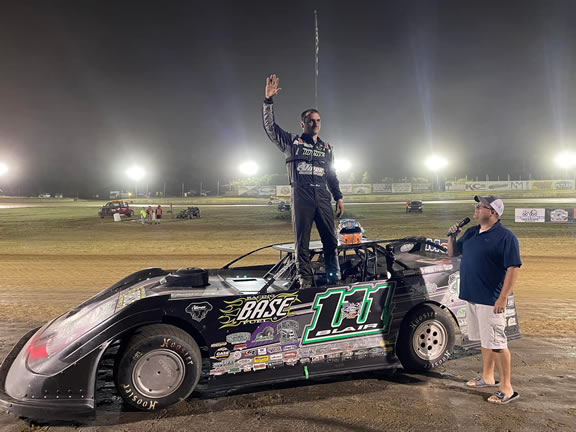 Wyatt Scott and Kevin Smith brought the field to the green flag for the 41 lap event in memory of the founder of Genesis Shocks. At the start Scott scooted away only to see the caution lights come out ¾ lap later for Smith who spun in turn 4. A complete restart put Alex Ferree on the outside pole besides the XFactor of Scott and this time Ferree the winner the night before at Marion Center would use the outside lane to roll around Scott to lead the first lap of the event.
Blair was quickly up to third and grab second from Scott and set his eyes on the #1c Cochran Automotive of Ferree. Lap five saw Blair under Ferree and take the top spot down the back stretch to complete lap six. As Ferree tried to keep Blair within striking distance and using lap traffic to stay within reach the battle for third was very good between Scott, Chub Frank, Mike Knight, Greg Oakes and Darrell Bossard all with a few car lengths of each other.
As the laps clicked off Ferree would close in within a few car lengths but Blair would get around the lap traffic easier and drove off in the darkness of the night to grab the Mike Farr Memorial in back to back years. Ferree would come home second followed by Scott, Frank and Knight rounding out the top five.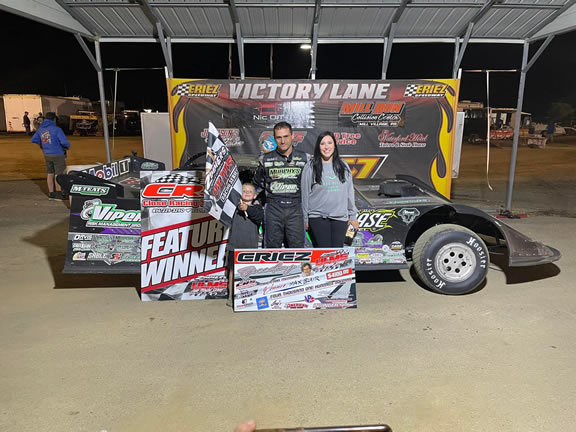 MIKE FARR MEMORIAL (41 Laps):
1. 111V-Max Blair[6]; 2. 1C-Alex Ferree[4]; 3. X3-Wyatt Scott[1]; 4. 1*-Chub Frank[5]; 5. 9K-Mike Knight[3]; 6. 22B-Darrell Bossard[8]; 7. 40-Dutch Davies[7]; 8. 12B-Andy Boozel[11]; 9. 22X-Greg Oakes[10]; 10. 76-Steve Kania[9]; 11. 4S-Ryan Montgomery[13]; 12. 44H-Dave Hess Jr[24]; 13. B22-Bump Hedman[16]; 14. 21-Matthew Lux[12]; 15. 6-Chad Wright[20]; 16. 0R-Ryan Scott[18]; 17. 29-Jason Genco[17]; 18. 01W-Khole Wanzer[22]; 19. 19-Bob Dorman[21]; 20. 97-Kevin Smith[2]; 21. 9-Breyton Santee[14]; 22. 10-Jared Miley[15]; 23. 7J-Kyle Bedell[19]; 24. 10S-Dave Stamm[23]
Heat Winners: Max Blair, Chub Frank, Darrell Bossard, Dave Hess Jr.
Thank you to all of the great sponsors and partners who support our program:
Base Racing Fuels, ATC Site Construction, Viper Risk Management Group, Northeast Paving & Sealcoat, David Diesel Service, Bachman Trucking, Creekside Auto Sales, Murphy's Logging, C and J Dairy, Previty's Auto Wrecking, Specialty Products, Neimeyer Garage, NW Bus Service, Chiarelli Paving, Liberty Kenworth, Integra Racing Shocks, M Teats Transport, Mobile 1, Close Racing Supply, SRI Performance, Strange Axles, XS Power, Brown & Miller Oil Lines, Fast Shafts, Clements Automotive, Jerico Performance Transmissions, GSP Garrett Smith Performance, FK Rod Ends, Sweet Manufacturing, Wilwood Brake Systems, MWB Graphics, F&W Grafix, DMI / Bulldog Rearends, Rocket Chassis, Beyea Headers, Allstar Performance, Jones Racing Products, Make or Break Apparel, Xtreme Auto Body, Jay's Automotive, Bubba's Racing Supply, Pancho's Racing Products, Swift Springs, Accu-Force, Barnes Oil Pumps, Hoosier Tire