June 23, 2023
Sarver, PA


Max Blair, who currently sits atop the O'Reilly Auto Parts Rookie of the Year chase earned his first career Lucas Oil Late Model Dirt Series win by taking the 25-lap nightcap main event at the Lernerville Speedway.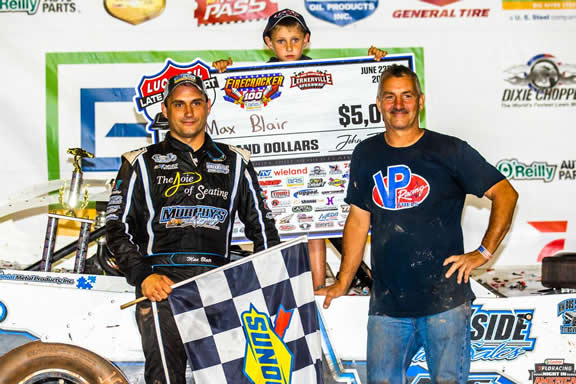 Like the first feature, the second came down to the end with Blair holding off a hard-charging Daulton Wilson for the win. Devin Moran, who led the first 19 laps was third at the finish with Michael Norris passing Tyler Bruening on the final lap for fourth.
The 33-year-old Blair, a third-generation racer from Centerville, Pennsylvania, became the 15th different winner of the season with the series and the 89th different driver in series history to win a Lucas Oil Late Model Dirt Series race.
"Man, this is awesome. I don't even know what to say. I started running Devin down a little bit there and I thought no way I was going to pass him - then I was thinking I was a little better than him and then I passed him. I messed up every corner for the next three laps so then I finally calmed myself down and just rode it to the end. I can't thank Boom and Steve Briggs enough for giving me this opportunity of a lifetime. This is a great partnership and I think it's going to be a really good fit."
"I didn't feel secure until I crossed the checkered flag. I felt like I had a car capable winning all day. We have been pretty good all weekend. Everybody thinks this is like my local racetrack it's not. We have raced the Firecracker and I have been to the Stampede a couple of times, but I do love this place. I love coming here. Hats off to Lernerville they have worked their tails off to get these races in. There is a lot of places that wouldn't have done what they did. We sure appreciate that too."
Wilson equaled his best career finish with the Lucas Oil Late Model Dirt Series by coming home in second behind Blair. "We got hung up there on the outside and didn't really know where to be. I finally got down on that bottom and I got to rotating around there pretty good. I didn't realize what lap we were on until I seen the white. Hats off to Max he drove a good race and Devin, too."
Moran rounded out the podium for the second time on Friday by taking home third in the last feature of the day. "I mean cautions just killed me right there. I felt like I could make really good time the whole race and then the top just slowly started going away. I got my tires a little hot, but Max and those guys did a great job and so did Daulton. I mean two third-place finishes today, were happy with that."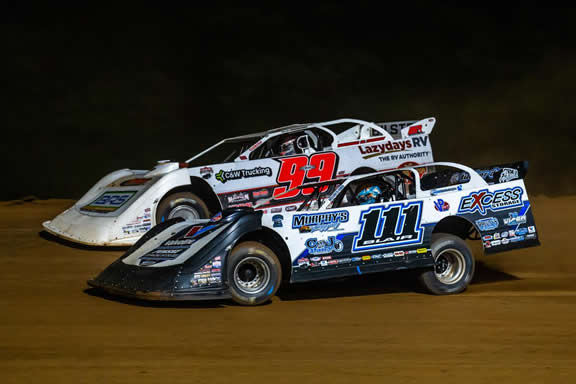 The winner's Briggs Transport-owned, Rocket Chassis is powered by a Clements Racing Engine and sponsored by Excess Storage, Corry Rubber Corporation, Meridien Hardwoods, Valvoline, Penske Racing Shocks, Creekside Auto Sales, Tucker Drums, Murphy's Logging, C&J Dairy, Northeast Bus Service, Three Rivers Karting, Chub Frank Racing, and Privity Auto Wrecking.
Completing the top ten in the 25-lap Group B feature were Tim McCreadie, Colton Flinner, Garrett Alberson, Ryan Montgomery, and Logan Zarin.
Penske Shocks Heat Race #1 – Group B Finish (8 Laps, Top 4 Transfer): 1. 99-Devin Moran[2]; 2. 10-Michael Norris[1]; 3. 15K-Cody Overton[3]; 4. 9Y-Levi Yetter[4]; 5. J4-John Garvin Jr[5]; 6. 11P-Joshua Powell[6]; 7. 01-Ron Hall[7]; 8. 14A-Dan Angelicchio[8]
Summit Racing Products Heat Race #2 – Group B Finish (8 Laps, All Transfer): 1. 18D-Daulton Wilson[1]; 2. 1Z-Logan Zarin[4]; 3. 25Z-Mason Zeigler[2]; 4. 25S-Cory Sines[6]; 5. 9-Breyton Santee[8]; 6. 4S-Ryan Montgomery[3]; 7. 55C-Chris Schneider[7]; 8. 97-Kevin Smith[5]
Simpson Race Products Heat Race #3 – Group B Finish (8 Laps, All Transfer): 1. 111B-Max Blair[1]; 2. 16-Tyler Bruening[2]; 3. 39-Tim McCreadie[5]; 4. 99B-Boom Briggs[4]; 5. 58-Garrett Alberson[3]; 6. 48-Colton Flinner[6]; 7. 14-Braeden Dillinger[7]; 8. 1L-Chuckie Lepsch[8]; 9. 66-Todd Bachman[9]